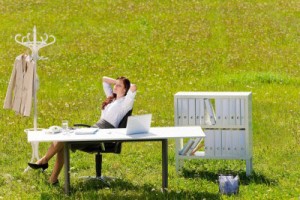 We're pretty sure it's not just us wilting away in a sweltering office during our freakishly hot summer, so our creative team here at Aneela Rose PR have been busy (yes, really) coming up with some novel ways to keep cool at work.
Here are our favourite five:
1. Organise an ice cream run
The old fashioned lure of the ice cream van never fades…. go on, grab some loose change and volunteer to sprint round the corner, even if it's just to escape the sticky reconditioned air of the office for a few minutes.  A nice cool cornet (or a Fab, our personal retro favourite) is just what you need to perk you up. 
2. Daydream
Not necessarily one you want to keep practising in front of the boss, but hey, research has shown that sitting back, closing your eyes and picturing snow does actually work by reducing your temperature.  Just don't nod off at your desk….
3. Lie on the floor
Hot air rises and so if you need a quick cool down, it's best to get down low (unless your office is kitted out in shagpile).  Comfy it won't be, but at least you'll be away from warm air currents.
4. Use water
There's no doubt that cool water can be your friend when it's hot, whether it's drinking the stuff, dabbing ice cubes on your wrists to cool down or even soaking your clothes in it. Don't worry if wet t-shirt competitions aren't your thing – for a more subtle effect, simply drench a hairband or a pair of socks in cold water to get chilled.
5. Strip poker
And lastly, from Aneela…  what more can we say!  For the more modest types among you, we suggest simply loosening your necktie, or taking off that high necked woolly cardigan. And remember, make the most of these lovely balmy days, the nights are drawing in already.
Thank you for taking the time to read this blog. I'm an experienced journalist with a PR background and understand how the two sides work. If you would like to discuss how Aneela and her team can help your business, please make contact. Our website is https://www.aneelarosepr.co.uk