We've worked our little petals off and achieved a record number of media acceptances for our press launch this evening 5th Sept at Guildhall Art Gallery for their Victoriana Exhibition.  At the last count, we have 70 journalists, bloggers, art reviewers and media influencers attending the Private View and Press Launch in the City tonight. Incredible interest. We've already achieved coverage in The Times, Sunday Telegraph, Mail on Sunday, Evening Standard, Time Out, BBC TV London to name a few.
Shortened version of the exhibition Press Release below:
'Victoriana: The Art of Revival'
 Come and be Beguiled by this Fascinating Miscellany of Curiosities
Guildhall Art Gallery, City of London, 7 September – 8 December 2013
From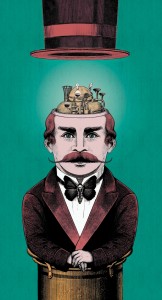 the macabre to the quaint, the sensational to the surreal, 'Victoriana: The Art of Revival' is the first-ever exhibition in the UK to offer a major retrospective of Victorian revivalism in all its guises.  Featuring graphic design, film, photography, ceramics, taxidermy, furniture, textiles and fine art, this fascinating multi-media, multi-sensory show at the Guildhall Art Gallery provided by the City of London Corporation, explores the work of contemporary artists who have been inspired by the 19th century and offers an intriguing perspective into the on-going cultural legacy of our Victorian forebears.
The Guildhall Art Gallery, has built a reputation for its outstanding collection of Victorian paintings and this new exhibition offers an original dimension to the gallery's exhibition programme by bringing together 28 major contemporary artists, including Yinka Shonibare, Grayson Perry, Paula Rego, Dan Hillier, Paul St George, Rob Ryan, Kitty Valentine and Jake and Dinos Chapman, who encapsulate the essence and diversity of Victorian Revivalism.
Combining past with present, the exhibition will feature over 70 works, including the entertaining 'Geistlich Tube' created by Paul St George especially for the show, which enables viewers to 'see' another viewer from a different part of the Gallery, Yinka Shonibare's reimaginging of Dorian Gray, via the 1945 Albert Lewin film, Paula Rego's  sinister revisioning of Charlotte Brontë's 'Jane Eyre'(2001-02), Stephen Kenny's bold pastiche of a Victorian advertisement entitled 'Drink More Gin' (2010), Miss Pokeno's poignant fox-filled armchair, 'Trophy' (2008), Carole Windham's whimsical Staffordshire figure, 'Dearly Beloved' (2012),which depicts David Cameron and Nick Clegg as Queen and Consort in a commemoration of their policies on gay marriage and the surreal 'Octopus Portrait' (2009) by Yumiko Utsu. 
'Victoriana: The Art of Revival' represents an eclectic and, at times, eccentric exploration of the 19th century as seen through the eyes of these modern-day artists which will appeal to 'gentlemen, ladies and children'.