Working with our client Woburn Safari Park is full of animal joys! We've been working with the Park to r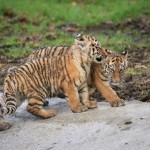 aise awareness of their critically endangered Amur tiger cubs, born last September who are slowly being introduced to their four-year old father, Elton.
The two female cubs are the first tigers to be born at Woburn Safari Park in 23 years and have spent the first nine months of their lives with just their four-year old mother, Minerva in a nine acre woodland reserve and tailor-made tiger house.