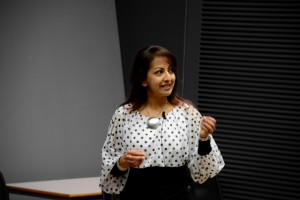 Aneela was delighted to be invited to speak at the Brand Leaders Conference at Anglia Ruskin University's business faculty in Chelmsford on the 11th March 2014.
Attended by budding entrepreneurial business students from both the Chelmsford and Cambridge campuses, Aneela openly told the story of the journey to becoming her own boss. She gave tips and advice to the students and dispelled some myths such as "you don't need a 50-page business plan" to launch a business!
Immediate feedback from students included:
Ilias M'Rabet – "Your company really impressed me and you impressed me moreover. I would love to work with someone like you who inspired confidence and has a strong work ethic. You've inspired me to think about a career in PR."
Nilufer Mehmet – "Was lovely to meet you today, your words really did mean a lot to me…thank you."
Amy Kemsley – "Thank you for taking the time out to speak at the conference today. You were brilliant."
James Hodges – "Thank you very much for speaking today it was very insightful. You are a really bubbly and lively person, someone who you could instantly talk to, probably being very handy in the PR industry. You are one dedicated, inspiring and hardworking self-motivator!"
In 2005, Aneela was honoured to receive the Success in Business Award from the University.