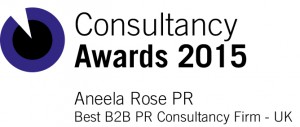 We would like to share some fabulous news. ARPR has been awarded Corporate Vision's 'Best B2B PR Consultancy in the UK 2015.'
Corporate Vision's decision to award Aneela Rose PR was based on the our ability to implement effective  PR campaigns by raising the profiles of clients through joined-up activities and the overall successes that we have achieved.
2015 has seen our PR campaigns yield major results for our clients in niche sectors in manufacturing, engineering and construction. We have developed a collaborative approach with our clients and now also integrate offline with online PR through ARPR's sister agency Purple Rose Digital (providing social media and digital marketing) enabling the PR agency to offer clients targeted and trackable content-led PR campaigns.
Aneela Rose, Director who accepted the award said, "We have an amazing team here and I'm thrilled that the outstanding work they do for our clients has been recognised. I'm so proud of the agency we've all created together; we're a small agency with BIG ideas and ambitions. We've achieved incredible results for our B2B campaigns this year and more is planned for 2016."