It's not always easy publicising an event – journalists get overwhelmed with invites so getting press to come along to a bash can be a particularly tough call – but our brilliantly successful laun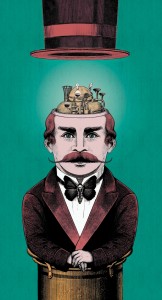 ch of Victoriana: Art of Revival exhibition at our client the Guildhall Art Gallery last month shows just what can be done when a carefully orchestrated PR campaign stretches across social media, print and broadcast channels.  We Roses managed to secure more than 100 pieces of coverage in The Times, Sunday Telegraph, Mail on Sunday, Evening Standard, Time Out and BBC TV London, to name a few – and our client was delighted with the results!
With events still in mind, we've been busy gearing up for Halloween this week, getting ready for Guildhall's Gothic party, a thrilling feast of Victorian themed entertainment, art and cabaret and more, so in the midst of our campaign in the Rosy office, it seemed a timely moment to share our top tips on promoting events.
Embrace Social PR
If you're publicising a launch or event then you need to be prepared to talk about it online and for people to share. Encourage conversations by setting up Twitter hashtags, Facebook pages about the event, Pinterest boards with great images of the venue and people taking part; add as much as you can for people to share. Start and lead conversations by talking with followers online.
Be selective about your target media
Don't use a blanket approach. Be targeted and selective in who you send your event news to. Make sure it's relevant to them, the publications with the biggest and most relevant circulation – we gave preference to ones with a strong online presence and ideally with an arts interest.
Pitch it properly
This isn't a hit send button and hope for the best job! Know the journalist you're sending the release to or at the very least their publication. Do your research before you send the release and certainly before you phone them. Offering an exclusive can go down well and be armed with lots of hi-res images at the ready.
Follow-up
Don't just cross your fingers & toes and hope for the best.  You need to pick up the phone and talk to the journalist about the story if you've not heard from them. A gentle reminder or perhaps a re-pitch can make all the difference to securing coverage.
Thank you for reading my blog. My name is Francesca and I am the Senior PR Manager at Aneela Rose PR. I am the main daily point of contact for all our clients. If you would like to discuss how The Roses can help your business, please make contact. Our email is hello@aneelarosepr.co.uk, Twitter @AneelaRosePR.