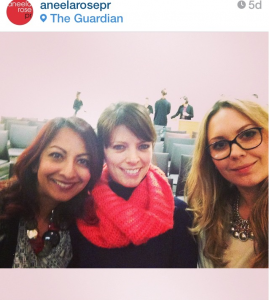 Last week our team of Roses were busy spreading their PR spirit at a number of networking events, both locally in Sussex and in London.
At Aneela Rose PR we believe in the power of networking and getting involved in local PR, Marketing and business event opportunities when we can. Aside from it being a nice break from the office, we like to think that it's a brilliant way of building relationships and an opportunity to meet people from a wealth of professions.
Attending networking events can be daunting to begin with as you're putting yourself out there with the responsibility of representing your colleagues and business as a whole.  As with anything, practise makes perfect which is why we like to encourage all of our Roses to attend at least one networking event a month. This gives everyone in the company the chance to stay up to date with industry trends and most importantly be sociable!
Out and about:
Starting the week off, Aneela and Jess our PR Executive attended the Burgess Hill Business Parks Association breakfast meeting at the lovely Hickstead Hotel on Monday morning. A local Business Association representing 200 to 300 Businesses in the Burgess Hill area. We've been a member of the BHBPA for several years now and have made some long lasting relationships with individuals across a range of businesses from nearby.
On Wednesday we all had a busy day. Stewart our Social Media Executive took a trip to Oakmeeds Community College in Burgess Hill to attend a 'Speed Networking' event. Year 9 students at the school had to ask Stewart a series of 'Yes' or 'No' questions in order to guess what his job was. A few rather strange questions were raised by the students, including 'Do you work with dead people?'
Meanwhile, Aneela took Harriette our Campaigns Manager and Jess on a trip to the Guardian offices in London on Wednesday evening to attend the PRCA Consumer talk and networking event. The topic up for discussion was 'Should brand PR have a higher purpose?" and featured a prestigious panel of speakers from Coca Cola, McDonalds, Kaper PR and Good Business all of whom bought some excellent points to the table. The Q&A lasted for around one hour followed by a drinks reception downstairs in the bar of The Guardian offices.